Our Partners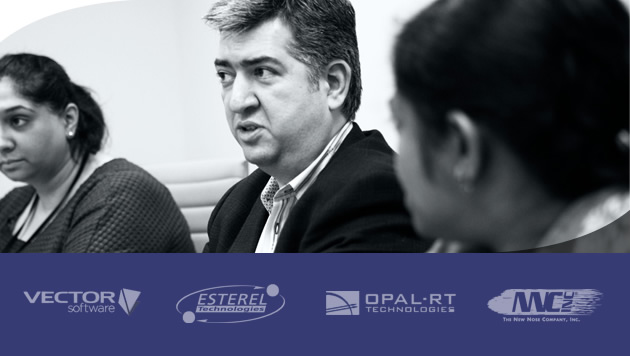 Vector Software

VectorCAST automates the unit, integration and system testing of C, C++ and Ada applications. For safety-critical industries like avionics, medical devices, automotive, industrial control and railways, rigorous testing is more than just good software development practice—it is a critical part of the software certification process.
Traditionally, embedded software testing has been a tedious and labour-intensive process. With VectorCAST, testing can be automated and therefore rolled into the repeatable software practices that our customers strive for.
The immediate benefit is that VectorCAST automatically generates the throw-away code necessary for good unit and integration testing, thereby freeing engineers to pursue higher-value tasks. Any level of code coverage metrics may also be automatically generated during each testing phase of the project, all in a single test run.
The longer-term benefit is a completely automated regression testing platform, where considerable time and money is saved because the code can be reused and modified.
To learn more, go to www.vectorcast.com


Esterel Technologies
Esterel Technologies is the worldwide leader of model-based design and verification tools for critical embedded systems. SCADE Suite is their market-leading, model-based development environment dedicated to safety-critical embedded software:
DO-178B qualified up to level A for Military and Aerospace Industries
IEC 61508 certified at SIL 3 by TUV SUD for Heavy Equipment, and Energy
EN 50128 certified at SIL 3/4 by TÜV SÜD for Rail Transportation
SCADE Display is Esterel's leading-edge embedded graphics design environment dedicated to safety-critical display systems, DO-178B qualified up to level A for Military and Aerospace Industries.
Combined in the SCADE Certified Software Factory,SCADE Suite and SCADE Display form the only integrated, industrialized tool suite spanning algorithm, logic and displays design, merging formal verification and certified code generation.
To learn more, go to www.esterel-technologies.com
Opal RT
Founded in 1997, Opal-RT Technologies is the leading developer of open Real-Time Digital Simulators and Hardware-in-the-Loop testing equipment for electrical, electro-mechanical and power electronic systems. Opal-RT Simulators are used by engineers and researchers at leading manufacturers, utilities, universities and research centres around the world.
Opal-RT's unique technological approach integrates parallel, distributed computing with commercial-off-the-shelf technologies. Customers perform Rapid Control Prototyping, System Integration and Hardware-in-the-Loop testing of electric drives, electronic controllers and power distribution networks in a variety of industries, including automotive, aerospace, electric ships, power generation, rail and industrial manufacturing.
The company's core technology, RT-LAB, enables users to rapidly develop models suitable for Real-Time Simulation, while minimizing their initial investment and the cost of ownership. Customers include ABB, General Electric, General Motors, Renault, Hydro-Québec, DENSO, Mitsubishi Electric, Hitachi, BHEL, Tata Motors, Bombardier and Embraer.
To learn more, go to www.opal-rt.com
The New Nose Company, Inc.
The New Nose Company, Inc., offers a wide range of services to meet the needs of your aircraft modification program. NNC provides avionics design and system integration, FAA DER certification services, and aircraft modification program management. NNC will work with you to pick and choose the services and solutions that are the most appropriate for you and your program.
NNC's experience dealing with the FAA will help ensure a smooth and orderly approval process. Typical services NNC has provided to past customers include:
Certification project management and FAA ACO liaison
Preparation of the Project Certification Plan/Electrical and mechanical design substantiation approvals
DO-160C/D Environmental Test witnessing and approvals
DO-178B Software development and approvals (Levels A, B, C& D)
Design substantiation test witnessing and approvals
Flight test witnessing and approvals
SAE ARP 4761 System Safety Assessment approvals
Proposed TIA content
To learn more, go to www.nnc-inc.com